Vitamin C is a water-soluble vitamin, i.e. it dissolves well in water. It occurs naturally in the human body and is involved in many bodily processes, such as the synthesis of collagen and red blood cells. The main source of vitamin C to the body is external, through food. It is also found in colourful fruits and vegetables such as oranges, lemons, grapefruit, kiwi, broccoli and red pepper. Vitamin C is used in cosmetic under 2 forms : ascorbic acid or pure vitamin C, commonly named vitamin C, and ascorbyl glucoside or vitamin C glucoside, named vitamin CG.
In our cosmetic products, they appear in the list of ingredients on the packaging under the names ASCORBIC ACID and ASCORBYL GLUCOSIDE.
Where does it come from?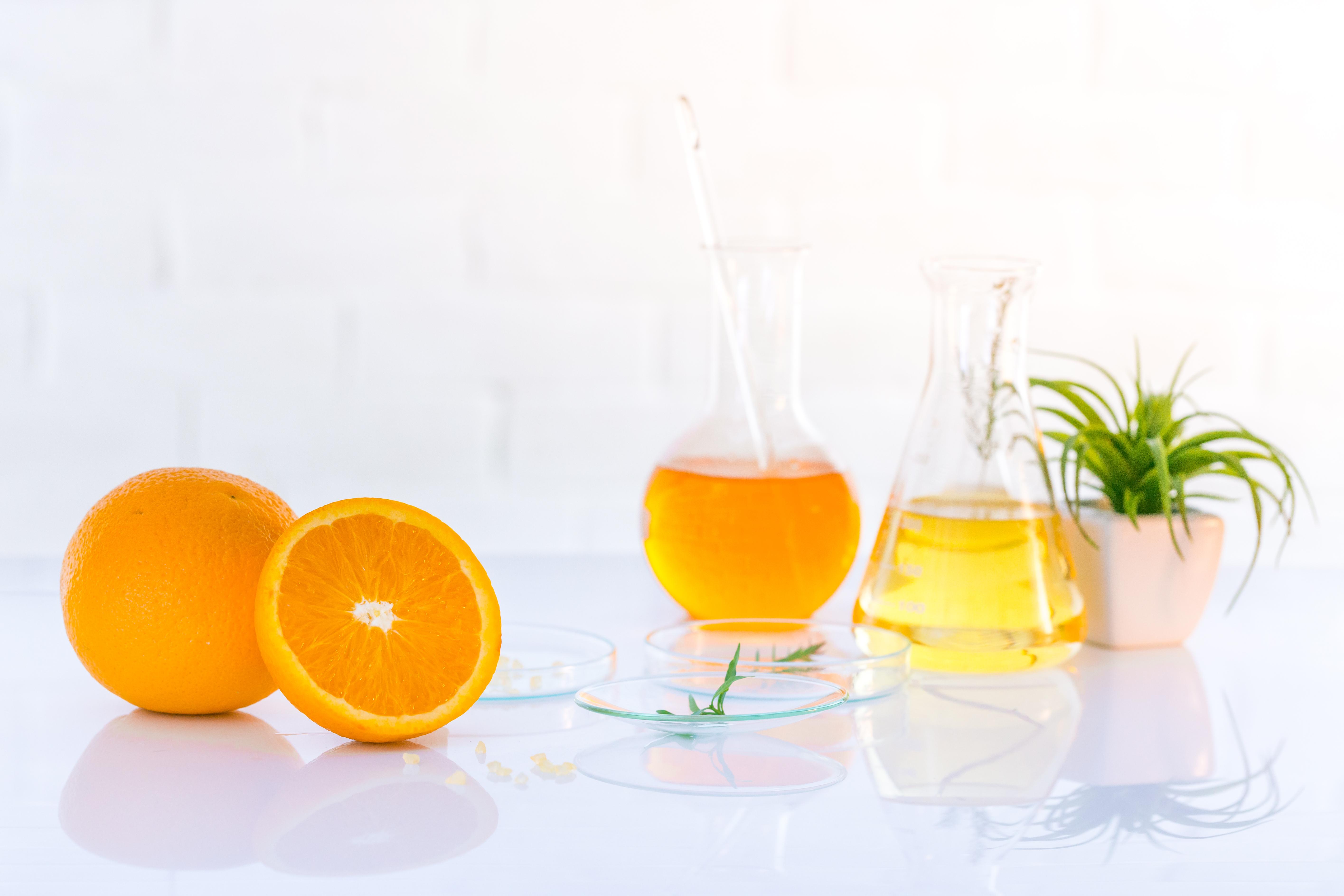 Vitamin C can be of fossil (petrochemical) or natural origin. We use several sources of vitamin C, most of which are renewable. A programme with one of our partners enables us to obtain natural vitamin C using a manufacturing process that complies with the principles of green chemistry*. The vitamin C glucoside we use is exclusively of natural origin.
*Process using minimum energy, water and generating minimum waste
Vitamin C is known for its health benefits. In particular, it is used therapeutically to treat fatigue. In cosmetics, it is used for its antioxidant, anti-inflammatory and anti-aging properties. It helps to unify the complexion and brings radiance to the skin. This property makes it an ingredient of choice for peeling products.
Uniform complexion and radiance
Vitamin CG is a precursor of vitamin C, which means that in the presence of certain substances on the surface of the skin, it will release vitamin C. Vitamin CG is particularly used for its properties to unify the complexion. This benefit is enhanced by the proven anti-inflammatory activity of vitamin C.
In cosmetics, thanks to its antioxidant properties, vitamin C helps reduce the action of free radicals created by the sun's rays, and thus prevent premature skin aging from sun exposure. It is known to promote collagen synthesis and the production of dermal cells such as fibroblasts, that decrease in the skin with age. Its antioxidant action is even stronger in the presence of vitamin E, as it is regenerated by vitamin C.
The Facts:
Scientific data shows that vitamin CG applied on the surface of the skin is transformed into vitamin C through the action of substances present on the skin, such as phosphatases or glycosidases.
One study1 reports the well-known properties of vitamin C such as its antioxidant power and its effect on collagen synthesis2. It shows the positive effects of a vitamin C skincare cream on the signs of aging caused by exposure to the sun.
One study3 shows that vitamin C, in addition to its antioxidant activity, also has anti-inflammatory properties.
One study4 has shown that vitamin E regeneration thanks to vitamin C, thus reinforces their antioxidant powers.
Repeated exposure to the sun leads to skin pigmentation due to increased melanin production. Vitamin C, already known for its properties on complexion uniformity, was studied5 to evaluate its potential to limit the pigmentation caused by daily exposure to ultra-violet radiation.
To maximize the benefits of vitamin C in cosmetic products, a study6 was conducted on ways to improve its stability.
1 Philippe G. Humbert & al., "Topical ascorbic acid on photoaged skin. Clinical, topographical and ultrastructural evaluation: double-blind study vs. placebo", Experimental Dermatology 2003; 12:237-244
2 Betty V. Nusgens & al., "Topically Applied Vitamin C Enhances the mRNA Level of Collagens I and III, Their Processing Enzymes and Tissue Inhibitors of Matrix Metallproteinase 1 in the Human Dermis", The Society for Investigative Dermatology, Inc. 2001; 0022-202X/01
3 Tebbe & al. "L-Ascorbic Acid inhibits UVA-Induced Lipid Peroxidation and Secretion of IL-1α and IL-6 in Cultured Human Keratinocytes In Vitro", The Society for Investigative Dermatology, Inc. 1997; 0022-202X/97
4 Niki E & al. "Regeneration of vitamin E from alpha-chromanoxy radicals by glutathione and vitamin" C. Chem Lett 1982; 789–792
5 Romain de Dormael & al. « Vitamin C prevents ultraviolet-induced pigmentation in healthy volunteers », J Clin Aesthet Dermatol. 2019 ; 12(2) : E53-E59
6 Amanda C. Carita & al. « Vitamin C: One compound, several uses. Advances for delivery, efficiency and stability", Elsevier, nonomedjournal.com; NANO-0000102117
How is it used in our products?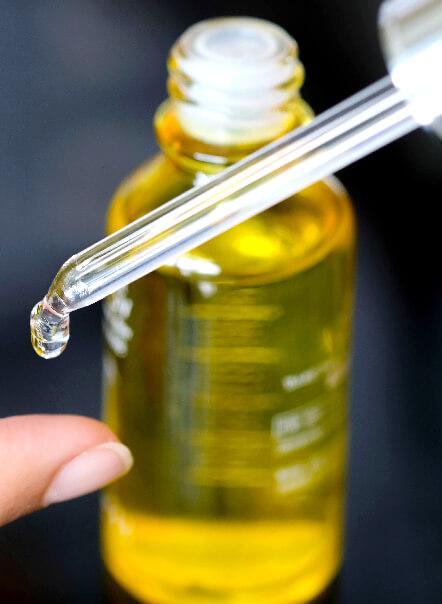 Text block 5
We use vitamin C in our anti-aging skincare products for its antioxidant and anti-inflammatory properties and its benefits on the radiance and uniformity of the complexion.
As vitamin C is sensitive to light, it is formulated under conditions that preserve its stability. Vitamin C products are packaged in airtight bottles or opaque protective aluminium tubes. We also use microencapsulated forms of vitamin C.
Vitamin CG is used in our blemish-reducing product ranges, given its potential to limit the pigmentation caused by repeated exposure to the sun. In some Asian countries such as Japan, Korea, vitamin CG is an active ingredient considered by law as a Quasi-Drug, i.e. between a cosmetic and a drug. Its use in cosmetic products, to combat skin blotches, is regulated.
Vitamin C is present in some of our peeling products at a level higher than 10%. For this type of product, it is recommended to follow the precautions for use indicated on the packaging, such as avoiding the eye area, not exposing oneself to the sun and using a sun protection product. Vitamin C is suitable for use with sensitive skin. Like all our products, those containing vitamin C are subject to strict evaluation of their quality and safety.